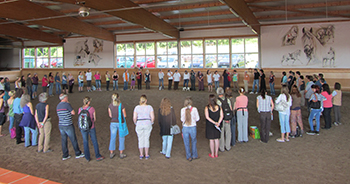 Spirit of the Horse Festival, 2013. Heinsheim, Germany
Services
The Center for Horses and Healing offers the following services:
Individual, custom designed shamanic healing and transformation sessions: on site or at your location. Call or email Sharon for more info.
Workshops: Introductory clinics, 1 day workshops, and 2 - 4 day introductory and advanced workshops at various locations--nationally and internationally.
Consultations: Sessions designed to facilitate and resolve relationship issues of all kinds…in person or long distance.
Lectures: Various lecture topics on this new paradigm and its application to our horse/human culture.
Healing Retreats: Custom designed for individual needs and circumstances.
Rituals and Ceremonies for Healing and Transformation: TBA as guided. Contact for more info.
Mentoring for spiritual and equine facilitated learning and therapy practices, and shamanic practices--nationally and internationally.
---
Workshops
2017 Workshop Schedule
March 4 EMPOWERMENT SERIES: #1 Self Care and Self Defense
April 1 EMPOWERMENT SERIES: #2 Energetic Self Care and Safe Space
March 10 - 12 ROCKY MOUNTAIN HORSE EXPO: Denver, Colorado
Presentation and Booth
March 26: NEGOTIATING SPACES: Boundaries for Healers and Teachers experiencing compassion fatigue and burnout
April 14, 15, 16 THE CALL OF THE HORSE
Happy Dog Ranch, Littleton, Colorado
July 7, 8 , 9 KEEPER OF THE MYSTERIES:
Happy Dog Ranch, Littleton, Colorado
August 12 & 13 SPIRIT OF THE HORSE FESTIVAL: Heimsheim Germany (near Stuttgart)
5th annual gathering of this powerful international horse/human community at Barockreitzentrum Center
August 15 & 16 RITUALS AND CEREMONIES FOR TRANSFORMATION: For Healers and Teachers
Facilitated by Sharon Bringleson and Ulrike Dietmann
Heimsheim, Germany
October 13, 14 & 15 THE CALL OF THE HORSE
Can you hear them? Are you listening?
Happy Dog Ranch, Littleton, Colorado
November 18, 2017 EMOTIONAL FITNESS FOR EQUESTRIANS
Learn how your emotions affect your horse
Happy Dog Ranch, Littleton, Colorado
---
Call or email for more info.